Everybody wants to learn about different places and know about their specialties. Tourists and travelers visit different places and share their experiences via blogs and advertisements. How do we decide that a city possesses all the amazing facts discussed in the blogs? To trust the culture and nature of its beauty, we need somebody to rely on. Places have brand ambassadors who hold the highest power of authority in representing his or her city. Now let's discuss the famous personality who is the brand ambassador of Dubai.
A brand ambassador is not only a representative body. He promotes a city by all its means, ranging from all the events and trades to professionals and street teams. A brand ambassador of any city is usually a celebrity or a public figure with great fame. Later, the ambassador gets paid for devoting his time to promoting the city. Many industries rely upon the brand ambassador to show up because people trust their reviews. So, he must always be well informed about all the features and qualities of the industries.
There are different mediums through which brand ambassadors can channel the important traits of a city. They can do the same via social media, emails, messages, and promotional events. This, in turn, puts a drastic effect on the export, import, trading, tourist visits, and economy of a city.
WHO IS DUBAI TOURISM BRAND AMBASSADOR?
Talking about the brand ambassador and different cities, Dubai chose a famous personality from India to be their Dubai brand ambassador. He is no one but Shah Rukh Khan. Bollywood Badshah promotes Dubai and also makes multiple short films in the city. King Khan will disclose all the secrets of a city everybody dreams to visit at least once in their lives. The brand ambassador of any city help people sees the glory from his eyes, and this is what Shah Rukh Khan does as a brand ambassador of Dubai.
WHY SHAH RUKH KHAN IS THE BRAND AMBASSADOR OF DUBAI?
The main ideology behind choosing Shah Rukh Khan to be the brand ambassador of Dubai is his fame. Shah Rukh Khan has millions of fans not only in India but across the world. He is the Bollywood Badshah who earned the love of his fans by not just being an actor but a real hero. Let's know some best work of Shah Rukh Khan and the reason behind why he is the Brand Ambassador of Dubai.
King Khan is not only an Indian actor but a producer and television personality. Have you ever wondered why Shah Rukh Khan is called the Badshah of Bollywood? It all started when a movie, Badshah was released in the year 1999. Shah Rukh Khan has worked in more than 80 films, he has earned the respect of receiving 14 Filmfare awards, the Padma Shri, Ordre des Arts et des Lettres by the Government of France and Legion of Honour. He is not of the most highly paid, respected, and successful actors not only in India but in the world.
BEST HITS OF THE BRAND AMBASSADOR OF DUBAI IN BOLLYWOOD
Some of the best hits of Dubai Brand Ambassador in the Bollywood Film Industry are Baazigar, Darr, Anjaan, Dilwale Dulhania Le Jayenge, Kuch Kuch Hota Hai, Mohabbatein, Kabhi Khushi Kabhi Gham, Devdas, Chak De India, Chennai Express, and many more. Apart from holding a higher place in the film industry, Shah Rukh Khan also holds the position of co-chairman of Red Chillies Entertainment, Indian Premier League, IPL Team Kolkata Knight Riders, and Caribbean Premier League team Trinbago Knight Riders. King Khan is one of the most influential people in the world.
AWARDS AND RECOGNITION OF SHAH RUKH KHAN
Along with Dubai Brand Ambassador, he is also featured in Newsweek under the section of fifty most powerful people in the world. Shah Rukh Khan has also received rewards from the UNESCO which is Pyramide con Marni award in 2011. Later, in 2018, he received the Crystal Award of the World Economic Forum.
CAMPAIGN OF THE BRAND AMBASSADOR OF DUBAI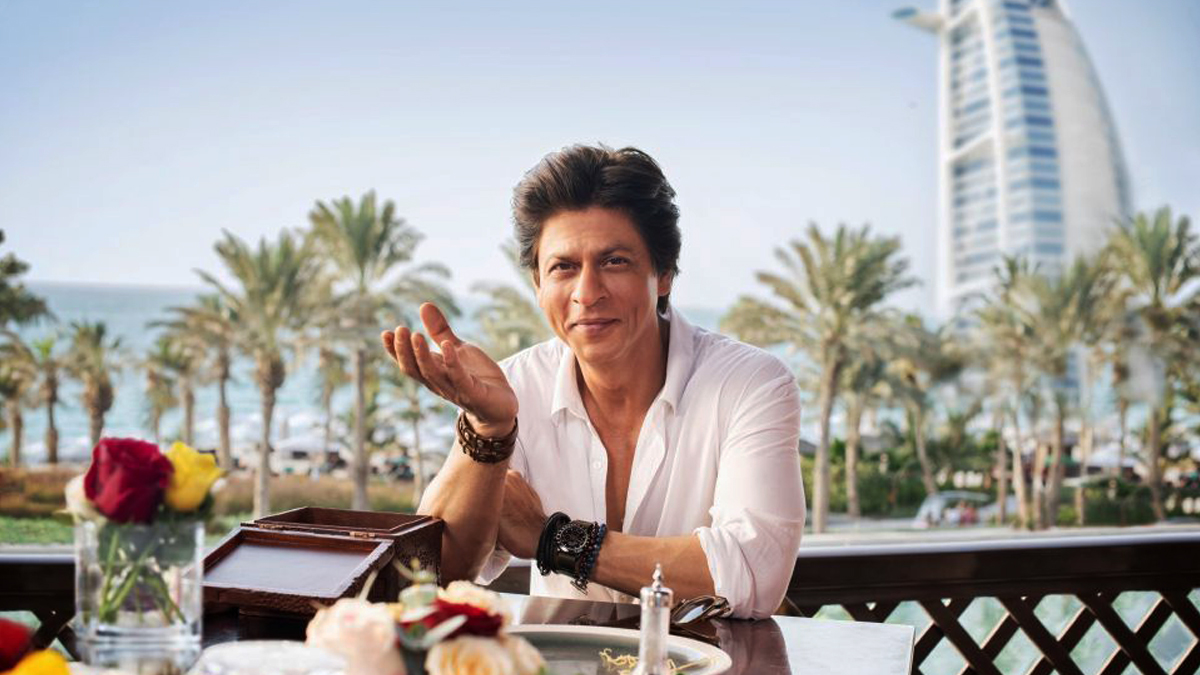 As a Dubai tourism Brand Ambassador, Shah Rukh Khan explored Dubai like never before. He, through the hashtag #bemyguest explored different cities of Dubai and its amazing cuisines. In three days, srk in Dubai, visited 8 places. He recorded the beauty of the Arabian charm on the first day where he talked about the overwhelming experience in the Wadinat Jumeirah resort of the United Arab Emirates and the Burj Khalifa. On the second day, he, as a Brand Ambassador of Dubai went across the beachfront and shopping destinations like La Mer and the Dubai Mall. On the last day, srk in Dubai, discussed the famous cuisines of Dubai and its popular dining.
WHAT ARE THE BRANDS SHAH RUKH KHAN ENDORSED?
Shah Rukh Khan is not only the Dubai Tourism brand ambassador but many other brands and associations. So, here are some of the brands that are endorsed by king khan other than Dubai Tourism Brand Ambassador.
BYJU'S: It is an Indian Multinational company related to the education sector. The company is headquartered in Bengaluru, Karnataka. Byju Raveendran and Divya Gokulnath started this business venture in 2011. Currently, it is one of the most valuable EdTech companies in the world. So, Shah Rukh Khan is the brand ambassador of this company. In one of his campaigns with BYJU'S, he played a role of a talk show host for children. The show was Ghar Ghar ki Kahani. In the role, he held a debate on the mode of education for children.
BigBasket: It is an online grocery delivery service headquartered in Bengaluru, Karnataka. Sudhakar, Hari Menon, Vipul Parekh, Abhinay Choudhari, and Ramesh found this company in 2011. The company delivers grocery items in stores. Apart from it, it is also a supplier of food essentials to direct customers. In 2015, Shah Rukh Khan became the brand ambassador of BigBasket and performed various campaigns through television commercials. Because of his unique personality and the way of attracting customers to any commodity, BigBasket chose King Khan to be its brand ambassador.
There are many other brands that Dubai Brand Ambassador endorsed. Some of them are Hyundai, Frooti, D'decor, Fair and Handsome, FoodPanda, Reliance Jio, Kent, Denver, and Dish TV.
HOW MUCH IS THE SALARY OF THE BRAND AMBASSADOR OF DUBAI?
For being Dubai Tourism Brand Ambassador, Shah Rukh Khan received around 140 million rupees. At that time, he was the second richest person in the world. During an interview as a Dubai Ambassador, he said that he will bring the interest of the people in the beauty of Dubai, but the product will pay the value itself.
So, there are many other famous personalities other than srk in Dubai that have signed a contract with Dubai to be Dubai Ambassador but for specific projects. MS Dhoni and Dipika Padukone also are Dubai ambassadors for some specific projects.
FOR MORE SUCH UPDATES FOLLOW US ON INSTAGRAM