Students after pursuing their class 12th with commerce background choose B.Com Honors during their graduation. There are many CA, CMA, CS aspirants who pursue these courses with their graduation. While some students only pursue b com honors. But, is B.Com honors a sufficient course in itself?
In this era of cut-throat competition in the commerce sector, can a student with only B.Com Honors as an undergraduate course win the race? It is not compulsory that students have to pursue courses like CA, CMA, or CS. But yes, they do get a preference against other students. If they get their names registered with white collars in the appointment list, what about other students? What all skills they can grab to get a decent job? Even if students do not wish to pursue these integrated programs, they can pursue short certified programs to learn new skills. There are many best online courses for b com Hons students.
So, there are a variety of short certified courses available for students nowadays. Moreover, they don't have to go somewhere and search for these courses. They can learn all of them on online platforms like Coursera.
WHAT IS COURSERA? WHAT DOES IT PROVIDE?
Coursera is a learning platform that offers certified courses for students from different backgrounds. Beginning from history to medical sciences, Coursera provides many courses in all the fields. Now the question arises, which are the best courses that students must choose in their respective fields. However, talking about commerce background, here are some of the best courses available on Coursera, that commerce pursuant must choose to learn new skills. These courses are one of the best online courses for b com Hons and will help students know about the field from scratch and help them know their field of interest. Students wish to either grab a job or opt for further studies after their graduation. But, these courses would help them in both ways.
HOW IS FINANCIAL MODELING ONE OF THE BEST ONLINE COURSE FOR B COM HONS?
So, the best online courses for b com Hons students are given below:
Financial Modelling: It is one of the best online courses for b com Hons in the field of finance. Financial Modelling refers to the task of building an abstract of a real-world situation. It builds a model of a financial asset or a portfolio of a business. Financial Modelling is a complete course in itself because with this qualification a fresher can get a decent salary. Moreover, it is a key to quick start a career in the field of finance. Financial modeling helps in analyzing the valuation of a business and comparing it with its competitors.
Moreover, it is further divided into different parts. One of the biggest advantages of this course is that the demand for the course is quite high as compared to its supply. So, it will benefit the students who are wishing to opt for this course. Financial Modeling is available as an online course on Coursera. Also, there are several financial modeling courses with different modules and aspects available on the website. Beginners can clear their concepts and learn about financial modeling from scratch through Coursera. "Business and Financial Modeling" is the official course can students can opt for on Coursera.
Check the Best Rated Financial Modelling Course on Coursera:  Business and Financial Modeling
WHAT IS E-COMMERCE AND HOW IT IS ONE OF THE BEST ONLINE COURSE FOR B COM HONS? 
E-commerce: In this era of digitalization, everything is changing its track. Google meetings have taken place of offline meetings, online classes are being held, messages are one of the fastest ways to connect with someone. The world is running at such a fast pace that people do not have time even for themselves. So, E-commerce helps them a lot at that time. Top running companies offer their products and services online and that comforts the life of other people. Beginning from monthly ration to medicines, everything is just an order away. So, young youth want to go into this field and know about it deeply. To help those business minds achieve great heights, Coursera provides many certified courses on E-commerce to excel their knowledge and skills. E-commerce is a vast field. So, this platform provides different modules in which it will cover all the concepts related to it. They will get projects and will be able to grab hands-on experience in the browser.
HOW ABOUT INVESTMENT AND PORTFOLIO MANAGEMENT?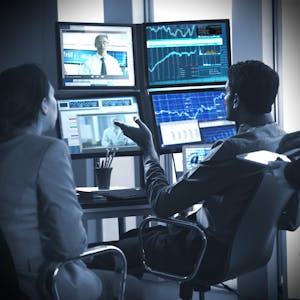 Investment and Portfolio Management: Apart from Finance, students are also interested to know about investment. To know more about this field and explore their level of interest, they look for some certified courses. So, Coursera provides a certified course in investment. It will stimulate students to learn about various investment techniques and help them to implement those techniques in the practical world. Students will learn about various styles and techniques of investments through which companies reach their financial targets. They will be able to grab skills like risk management, investment management, financial market, bond market, and many more. Investment management will help students learn about the financial market and its rational and irrational behavior in finance. The course is named as "Investment Management" specialization on Coursera.
Check Out the Course (Portfolio & Risk Management)
LEARN DIGITAL MARKETING AND ADVANCED EXCEL
Digital Marketing: Digital Marketing is not limited to a certain field, student from any educational background can opt for digital marketing. But, commerce students are always keen to learn about the day to day markets and financial strategies. So, many students learn about digital Marketing. Students think about establishing their business online or develop any website. Digital marketing is a key to everything in online mode. So, students want to grab some specialization in digital marketing so that they can look for work in any online sector or work for themselves. On Coursera, this course is named "Digital Marketing". Students will be able to explore the digital marketing environment and its various aspects like digital marketing analytics, search engine optimization, social media marketing, and many more. They will understand the foundation of the digital marketing landscape and own a new set of skills and stories that help to create digitally.
Advance Excel: Every commerce graduate or a student from the commerce field learn about excel. Although every student has a different area of interest, to open the areas of opportunities in the corporate world, they must know about the basics of excel. However, for finance-oriented students, advanced excel will make them preferred in a group. By just learning about advance excel, students get many opportunities other than their passion. Passion and profession are not always on the same path. But it may cross if stabilized with time. On Coursera, this course is named "Excel Skills for Business".
STATISTICAL DATA OF BEST ONLINE COURSES FOR B COM HONS ON COURSERA:
Financial Modeling: On Coursera, the University of Pennsylvania offers this course. This course results in specialization and has received a rating of 4.5 out of 5 stars. Around 55 thousand students have already enrolled in these courses. Moreover, students will receive a certificate upon completion. It will take around 6 months for the completion if students set a time to study 2 hours per week. No prior experience is required to learn this course. It is both for beginners as well as experienced groups.
E-commerce: There are different aspects of e-commerce available on Coursera. Out of which Build an E-Commerce dashboard with Figma is the most recommended. It is a guided project and has received 4.4 out of 5 stars. This course is especially for beginners. Around 12,900 students have already enrolled for this online certified course at Coursera. Students will need a desktop to learn and 2 hours. They will be able to learn skills like Design, Figma, UI, or UX. The course has received 565 ratings. Zeeshan, a learner of E-commerce at Coursera said, "I got hooked with everyone going on in the courses, from course content to TA feedback to meetup events and professor's Twitter feed."
Investment and Portfolio Management: Rice University offers this specialization course at Coursera. Investment and Portfolio Management received 4.5 out of 5 stars and it is for beginners. Around 35000 students have enrolled for investment and portfolio management at Coursera. Students will learn skills like Performance Attribution, Behavioral Finance, Financial Market, Bond Valuation, and many more. They will work on hands-on projects and earn a certificate after the completion of this course. Students have to invest around 6 months in the course if they would learn 4 hours per week. Jennifer, a learner of investment and portfolio management said, "I directly applied the concepts and skills I learned from my course to an exciting new project at work".
Digital Marketing: The University of Illinois at Urbana-Champaign offers a Digital Marketing course at Coursera. The course has received 4.6 out of 5 ratings from the learners. Digital Marketing at Coursera is for beginners. But, it is a specialization course. Moreover, it is a part of the MBA degree. More than 171,000 learners have enrolled for Digital Marketing at Coursera. Students will learn skills like Digital Marketing, Marketing, Pricing Strategies, Product Strategy, Marketing Mix, Data Collection, and many more. Around 48 percent of learners have started a new career after completing this specialized course. On the other hand, 16 percent of learners have got a pay increase or promotion. Students will earn a Certificate from Coursera and it will take around 8 months if students invest 5 hours per week.
Advanced Excel: On Coursera, Macquarie University offers this online course named Excel Skills for Business. It has received a rating of 4.9 out of 5 stars and it is a specialized course. Around 2,85,000 students have enrolled for the online course at Coursera. Students do not need any prior experience to enroll in the Advanced Excel course. They will learn skills like Data Validation, Microsoft Excel, Microsoft Excel Macro, Pivot Table, Graphs, Spreadsheets, and many more. 35 percent of students have started their career after completing this specialization and 31 percent of students have got a pay increase or promotion. Students will learn a completion certificate after 6 months of completing this online course.
Study Advanced Excel on Coursera
There are many other online platforms other than Coursera like Udemy that offers tremendous online courses for students. There are several best online courses for b com Hons on both platforms for almost all the profiles. Beginning from language to python, Coursera offers everything. Learn and brush up your skills to validate your resume and get the job you deserve.
FOR MORE UPDATES FOLLOW US ON INSTAGRAM